Should you be collecting Postal Stationery?
What Is Postal Stationery?
To most people, Postal Stationery means stamped envelopes and postal cards. However postal stationery includes all paper items that have a printed or implied monetary value when sold and retain their value until canceled when used or otherwise demonetized by the issuing authority.
Postal Stationery includes items associated with the post, telephone or telegraph offices. The most common forms are: stamped envelopes, stamped letter sheets (including aerogrammes), postal cards, letter cards, and newspaper wrappers. But postal stationery also includes items such as postal savings forms, money order forms, or telegraph forms when they have value stamps printed on them.
Postal Stationery is older than the adhesive stamp. The Venetian "A-Q" letter sheets date from 1608; the Sardinia sheets from 1818; the revenue devices on British newspapers provided free postage after 1821; and the Sydney, New South Wales, letter sheets were issued in 1838. The first adhesive postage stamps were not issued until 1840.
| | |
| --- | --- |
| | |
| Venetian A-Q lettersheet | First U.S. postal card 1873 |
Why Collect Postal Stationery?
Do you enjoy exploring new paths, are you interested in Postal History, or do you enjoy the challenge of something different from the common philatelic collecting interest? If so you will find Postal Stationery fascinating:
The many types and varieties of Postal Stationery can satisfy any collecting interest - as many varieties as there are of adhesive stamps.
If you wish to extend your historical knowledge, you will find Postal Stationery offers the opportunity to learn about the different postal systems and services, such as the postal banking system used in Europe. You can trace the changing customs of people as well as opinions of the writers on an infinite variety of subjects.
You can learn about the types and methods of manufacture of envelopes and cards as well as paper, printing methods, and design. Since postal stationery items are larger than adhesives, it is easier to study many of the features through them.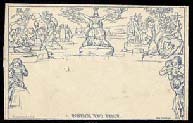 Mulready envelope from Great Britain, 1840
Postal Stationery is also an important addition to topical or thematic collections because postal stationery often has pictorial design elements.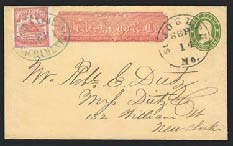 U.S. envelope carried by Pony Express
Missing perforations, centering, and gum sticking are less of a problem for postal stationery than when collecting adhesives. Furthermore, the postal stationery items are more sturdy, and less subject to damage than adhesive stamps.
Forgeries of postal stationery exist, but they are not common and are usually easily detected. Cancels and postal marking can, of course, be forged as on any cover.
How To Collect Postal Stationery
Postal Stationery is easy to collect. Items can be bought or traded from other collectors or purchased from dealers through the web or at stamp shows.
The United Postal Stationery Society also conducts auctions periodically for its members. Auction houses offer lots of postal stationery, either as single rare items, in groups, or in sizable collections. eBay can also be a good source of material for the Postal Stationery collector.
Sales circuits of the United Postal Stationery Society (UPSS) and the American Philatelic Society (APS) can also help build a collection.
The following hints will help the beginner avoid a few pitfalls:
Writing catalog numbers and other information on Postal Stationery is strongly discouraged. Write on the archival sleeve or mounting page. Historically, items were banded with thin paper bands on which infor-mation was written. Remove old bands since they are likely acidic and will stain envelope; use neutral, not acid paper, if bands are desired. When absolutely necessary, write only on the back very lightly with a soft pencil.
Cut squares trimmed from corners of U. S. envelopes and wrappers may be saved if one is interested only in dies and paper types. Postal cards and foreign postal stationery are never collected as cut squares. Leave at least 5 to 10mm margin around the stamp design.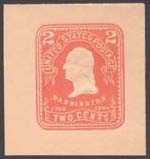 Cut square
Albums exist for cut squares and postal cards. Stock books or blank albums with cellulose pockets for individual items are used by many collectors. Others prefer to and store postal stationery in a box or file using archival sleeves (Mylar or cellulose acetate, never cellophane and with one end left open, so the air can circulate freely).
Clear acetate corner mounts are available from some dealers and UPSS for mounting items on pages. Scotch tape, hinges, and photo corner mounts will stain and damage stationery items over time and should never be used for mounting.
UPSS catalogs are the most convenient source of information regarding design, size and date of issue, size of perforations of letter cards, shape of envelope flaps (called "knives"), watermarks, and purpose of issue.
Keeping Up To Date
If you are ready to launch into a new collecting area, keep in mind that new issues of Postal Stationery are appearing almost every month, and new varieties of existing issues are often discovered. Membership in an organization of collectors may be of special help to collectors wanting to keep current with new releases and new finds.
The largest postal stationery organization is the United Postal Stationery Society, with members throughout the United States and many other countries. There are several postal stationery societies in other countries, including those organized in Australia, Belgium, Canada, France, Germany, Great Britain, Italy, Netherlands, Sweden, and Switzerland, as well as study groups for various regions of the world, past and present.
The United Postal Stationery Society publishes magazine, Postal Stationery, which provides good articles on the postal stationery of many countries. In addition, the Society publishes catalogs and handbooks on postal stationery.