Postal Stationery is the bi-monthly publication of the United Postal Stationery Society and is edited by Wayne Menuz. A subscription to this journal is included in your annual membership. Some back issues are available for purchase from the Central Office.
Back Issues Table of Contents Search (through 2000)
The table of contents for issues starting in 2001 is available as a PDF.
Publication History of Postal Stationery Magazine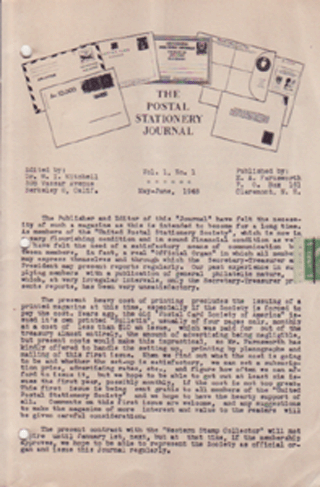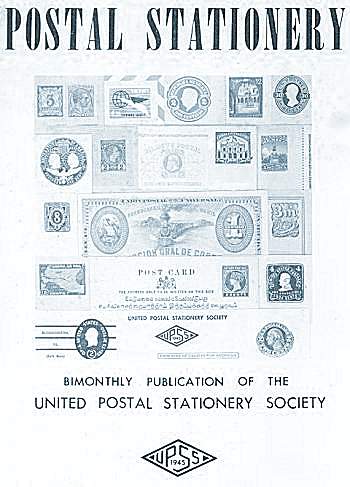 Initially (through 1948), the Society purchased space in Western Stamp Collector to communicate news to its members. During this time, periodic bulletins were issued to the members on various postal stationery subjects. In May, 1948, Dr. Walton I Mitchell and Mr. Eben Farnsworth began a private publication entitled Postal Stationery, which contained information on foreign stationery items. This private publication, issued bimonthly, was appointed as the official organ of the Society in May, 1949. In December, 1952, Dr. Mitchell was forced to resign as editor due to failing eyesight, and Mr. Farnsworth assumed the dual roles of editor and publisher. In January, 1954, Mr. Farnsworth ceased his publication and merged it into Covers magazine, while maintaining the editorship of the postal stationery section. The UPSS board of directors adopted this new magazine, Covers and Postal Stationery, as the society's official organ. This arrangement lasted for just 12 issues, and in January, 1955, Mr. Farnsworth again resumed publication of Postal Stationery; however, this time it was issued monthly, rather than bimonthly.
In August, 1956, Mr. Farnsworth sold the magazine to Mr. Emmett Peter, who assumed the dual functions of editor and publisher and changed the name to Postal Stationery and Postal History Monthly. In December, 1957, Mr. Peter reverted to a bimonthly publication, although the name remained unchanged. In July, 1960, Mr. Farnsworth again assumed the role of publisher, with Mr. E. Norman Lurch serving as editor. Also, the name was changed back to Postal Stationery. During 1961, the non-UPSS members who subscribed to the magazine were notified that they would have to belong to the Society in order to continue receiving Postal Stationery, as the Society had assumed control of it. In January, 1962, Mr. Farnsworth succeeded Mr. Lurch as editor of the magazine. Due to pressures of other work, Mr. Farnsworth stepped down as editor in October, 1963.
Mr. John Randall became the new Editor-in-Chief and continued in this roll through 1967.
On January 1, 1968, Donna von Stein took over the reins of the magazine. Donna's husband, Paul had become the printer of the magazine in 1966. In 1970, the von Steins established an annual literature award for the best article published in Postal Stationery during a one-year period. The first award was presented to Dr. N. Mooss of India; the second was won by Mr. Robert Dalton Harris for 1971; and the 1972 trophy was presented to Mr. Fred Johnson of Canada. In April, 1972, Donna and Paul concluded their tenure of service to the Society when they turned the magazine over to Jack L. Jenkins as Editor-in Chief in 1972.
Postal Stationery has been ably published with the following editors-in-chief since that time:Jack Jenkins (1972-1982), Ross Towle (1982-1988), John Weimer (1988-1996), Glenn Spies (1996-2000) and, since 2001, Wayne Menuz.
Postal Stationery was published in 6x9 inch size format until 1999 when it changed to 8.5x11 inch format. The journal has been published in color since 2011.
Some back issues are available for purchase from the UPSS Publications, upsspubs@aol.com. All back issues are available in the Members Only Area as free PDF files for viewing on-line or downloading.